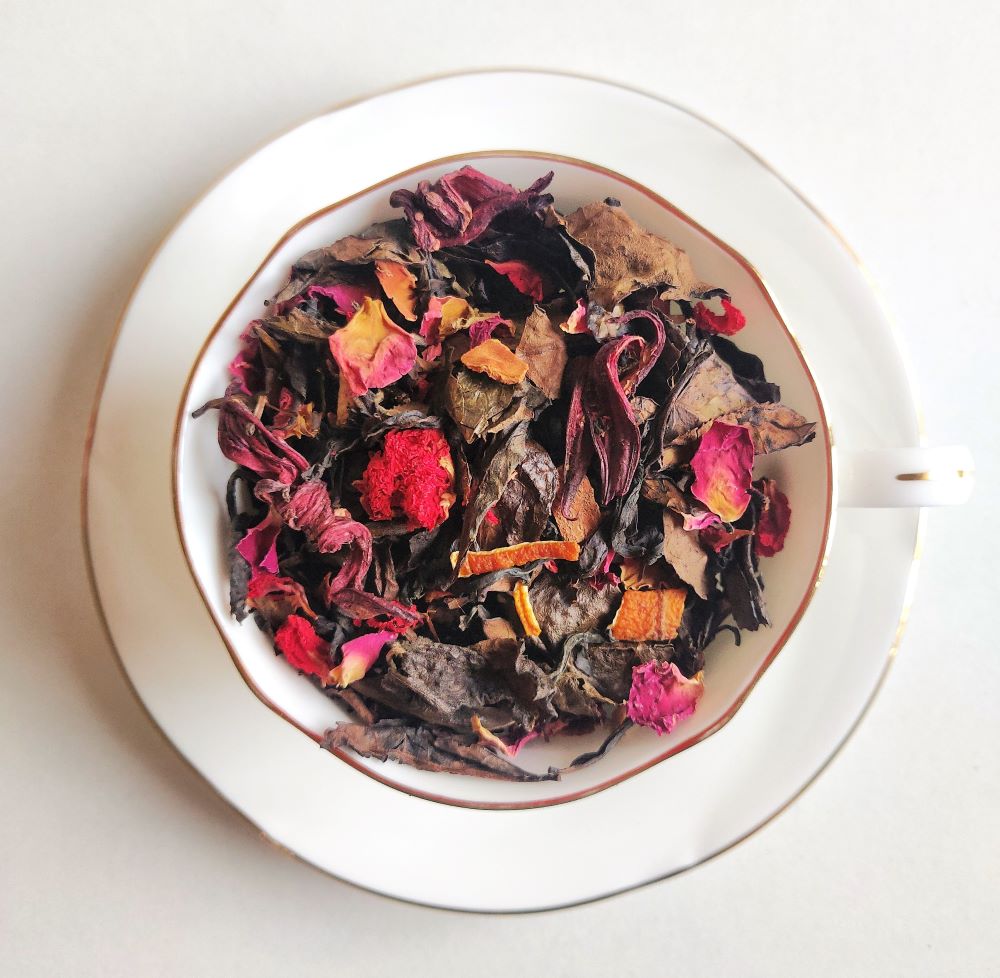 Blush ~ Oolong
Anandini Himalaya Tea creates:
To hear someone else's heart beat in line with your own ~ serendipitous.
Over vintage photos, contagious smiles, falling snowflakes, warm mittens, blazing firelight. With blushing Tea & Fuzzy socks, hugs, rest and laughter, we create memories.
Welcome home, love.
Ingredients:
Handmade Oolong Tea, Hibiscus, Rose Petals, Pomegranate flowers, Pink Peppercorn, Lemon Balm, Cinnamon, Clove, Vanilla & Orange rind
Tea Time: Morning Tea
Method of Infusion:
To absorb the essence of Anandini Himalaya Tea, infuse a heaped teaspoon of the blend for 7 minutes in 200 ml of water, heated at 95 degree C. Strain and sip delight
Properties:

Tea – High on anti oxidant properties and polyphenol; Lowers cholesterol & stimulates immune system.
Rose Petals – Soothes the nerves, cleanses the gall bladder and liver flushing out toxic matter. Helps fight infection in the digestive tracts and re establishes good bacteria.
Hibiscus Flower - Helps maintain body temperature, encourages fluid balance by removing fluid retention. Also known to help maintains blood pressure and has a calming effect relieving insomnia
Orange – Improves good cholesterol. It helps in reducing inflammation. It suppresses prostrate proliferation and is know to have anti-cancerous properties. It also boosts weight loss.
Spices – Helps relief muscle soreness. Fights against infections and works against stomach related problems.
Vanilla – Known to have Anti inflammatory and anti carcinogenic properties. It contains essential Vitamin B. It fights infections. Also an anti depressant working towards relief towards anxiety disorder.